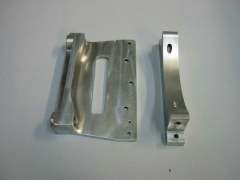 Bottom bracket for Carbir
Bottom bracket and skid mount for connecting Carbir oil tank to 2L engine oil pan. This two piece bracket ties in the oil tank to the bottom of the engine to reduce flexing between them and also to mount a skid pad for protecting the flywheel.
NOTE: This item is not currently in stock.
For more info email or
call us at (707) 938 8727
---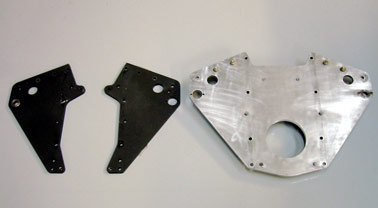 Carbir shear plate/rocker mount
A one piece machined aluminum plate (right) to replace the stock two piece plates (left). This one piece plate makes the car a lot more ridged and helps to hold the oil tank walls together with less flexing. Works with all stock parts. Plate can be bare aluminum for any more modifications you may want to add or anodized to your color preference.
For more info or price email or
call us at (707) 938 8727
---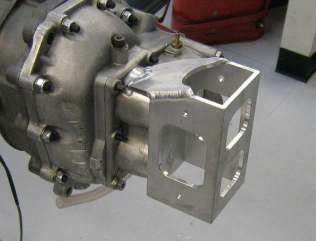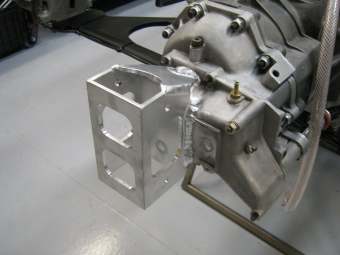 Rear cover mount for MK9
This is a modification to the Hewland MK9 transmission rear cover with a machined square aluminum tube welded on to allow universal mounting of a rear wing or tail supports. It is designed so that the stock rear cover studs and nuts can still be used and easily accesed. Minimal weight but with strong and ridged design. The tube is 3" square and 5.5" high and .195" wall. We can leave the mount blank for your own custom setup or machined to fit our tail support assembly.
For more info or price email or
call us at (707) 938 8727
---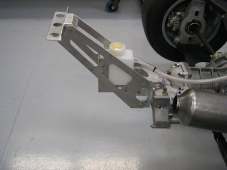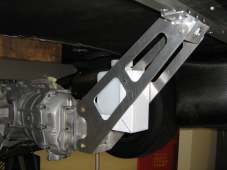 Tail support for Swift DB-2/5
This is a tail support assembly that fits on our MK9 rear cover mount and Swift DB-2/5 Sports 2000. It allows for a stronger support at the rear of the tail where the spoiler is making most of the downforce. An aluminum square tube is fitted to the tail that rests on the top of the mount when in place. There is a flat surface at the top for a fastening device such as a camloc.
For more info or price email or
call us at (707) 938 8727
---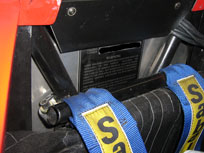 Shoulder belt adaptor to for Hans Device with FSCCA car
Most cars are not designed with the proper shoulder belt spacing for use with the Hans device and the belts are too far apart. Often drivers do not have the belts at the proper height either. We have made modifications to many cars to place the shoulder belts closer for use with the Hans device and the right height to match the driver.
This is a shoulder belt mount adaptor to fit Hans device with a FSCCA race car. This adaptor is made to fit the stock shoulder belt mounts and no welding or modification is needed to the car.
We can make this to fit the different height mount of your car depending on your shoulder belt fit.
For more info or price email or
call us at (707) 938 8727
---