Auto Spa has been located at the famous Sears Point/Sonoma Raceway for over 20 years, specializing in racecar restoration, fabrication and providing championship winning race preparation services.
Auto Spa Racing Service provides services for Club, Pro and vintage road racing. These services include car preparation, rebuilding, restoration, fabrication and transport to the track.
Feel free to contact us for any additional information.
Thanks for stopping by. We hope you enjoy your visit.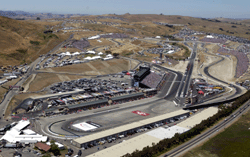 Aerial view of Sears Point/Infineon Raceway.
---