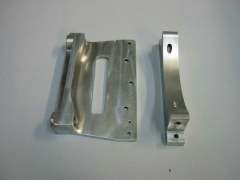 We found the flywheel on Carbir race cars to be unprotected with the stock setup so we designed this part. A bottom bracket for stiffening up the bottom of the Carbir Sports 2000 oil tank to engine and to protect the flywheel. It also make a good solid surface for mounting a skid plate.
---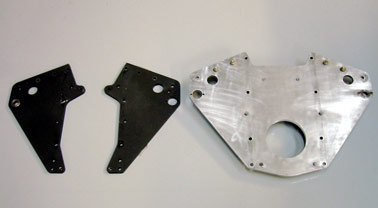 Carbir shear plate/rocker mount
A one piece machined aluminum plate (right) to replace the stock two piece plates (left). This one piece plate makes the car a lot more ridged and helps to hold the oil tank walls together with less flexing. Works with all stock parts.
---

Wheel hub wrench. A very simple design made with lightweight aluminum to hold the wheel hub for tightening the hub. Fits most small formula and sports racers with four wheel pin pattern. Fits Carbir, Swift, Van Diemen, Lola, FSCCA.
This item is one of the products that we are selling. For more info see our products page.
---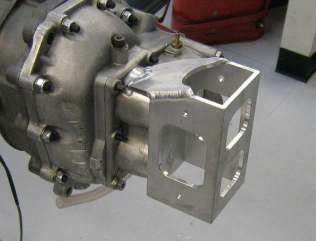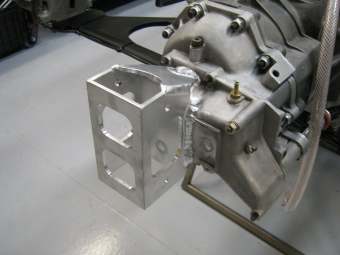 Rear cover mount for MK9
This is a modification to the Hewland MK9 transmission rear cover with a machined square aluminum tube welded on to allow universal mounting of a rear wing or tail supports.
---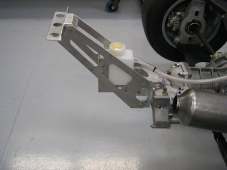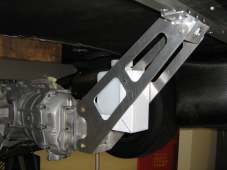 Tail support for Swift DB-2/5
This is a tail support assembly that fits on our MK9 rear cover mount and Swift DB-2/5 Sports 2000. It allows for a stronger support at the rear of the tail where the spoiler is making most of the downforce.
This item is one of the products that we are selling. For more info see our products page.
---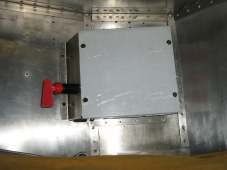 Battery box with master switch. Battery cables are kept to minimum length with the switch near the battery. A pull cable from the master switch to the roll hoop is used for emergency shut off. A compact, clean and safe battery box design.
---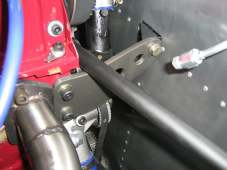 Front brace on engine of Swift Sports 2000.
An aluminum plate mounted from the engine to the back of the tub to reduce vertical motion between the engine and tub. Stiffens up the rear of the chassis and helps to reduce cracking of the bottom engine mount on the rear of the chassis.
---
Composite work on side pod. New mold for bodywork side formed to fit modified roll bar forward tube.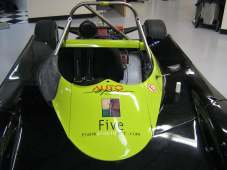 Finished body side modification with carbon fiber.