Please email or call for information and purchasing.
email to:
(707) 938 8727
Steering Wheels for sale
We have used steering wheels in varius sizes and shapes. Classic vintage and newer styles.
Steering wheels 14" and smaller can ship USPS Flat Rate medium size box to anywhere in US for $13.
Larger than 14" will cost $17 to ship USPS.
---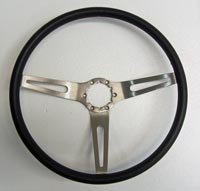 #SW1
Classic style 1967-1970 Chevy steering wheel (Chevelle, El Camino, Camero) Stainless steel. 15" Dia., 2.75" Dish, 6 bolt holes. $75
---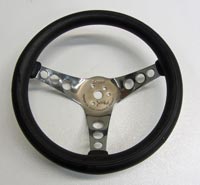 #SW2
"The 500" wheel by Superior Performance Products. Classic wheel for Hot rod or vintage kart. Includes a weld on hub. 12.25" dia., 3.625" dish, 3 bolt, 1/4" holes @ 1.75" dia. $30
---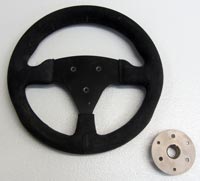 #SW3
Alpha brand small round race car wheel with weld on hub. 270mm dia ,3 bolt, 6mm holes at aprox 75mm dia. $100
---